Gutter installation, repairs, or maintenance can be a costly and messy job. Gutters and More Gutters provides innovative and affordable solutions to help all our customers. Since many service providers claim to provide the perfect quality, some people would like to know why we are the best option. Before we recommend any service to you, our professional technicians adequately assess the nature of your needs. They transparently conduct the appraisal, as we believe that you deserve to get an honest evaluation. This belief sets us apart from our competitors.
The amount of money you pay us depends on the evaluation. As such, as an honest gutter company, we involve you throughout the assessment process and answer all your questions. After that, we give you a comprehensive report that includes the exact cost of the project. This way, you get to know all your obligations before the work begins. 
Gutter Installation Fort Myers FL
When you know that the rainy season is around the corner, the smart thing to do is to prepare for it. If a gutter installation Fort Myers is suitable for you, our gutters Ft Myers professionals are on standby to install your gutter. We ensure the system is fully functional. Moreover, after the installation, our team custom makes the gutter system that accords with the unique design and architecture of the property. This is vital for protecting your home or businesses from the adverse effects of weather.
Gutter Cleaning Fort Myers Depends On
Gutter cleaning is possibly the messiest type of work that we do. Since we want to help you protect your property, we are happy to offer you gutter cleaning. We do all the hard work as you watch or engage in anything else that you love. We remove all the debris from any part of your gutter system, including the accessible parts of the roof and the downspouts.
Additionally, our trusted and reliable team ensures the entire system is operating efficiently. Once we have finished all of this, we start cleaning all the debris that is on the ground. If you want to remove the clogs permanently, our skilled technicians recommend gutter guards. We fit a cover that is made up of a sturdy aluminum frame that no one can see from the ground. By doing this, we help you to allow water into the gutter and not leaves and debris.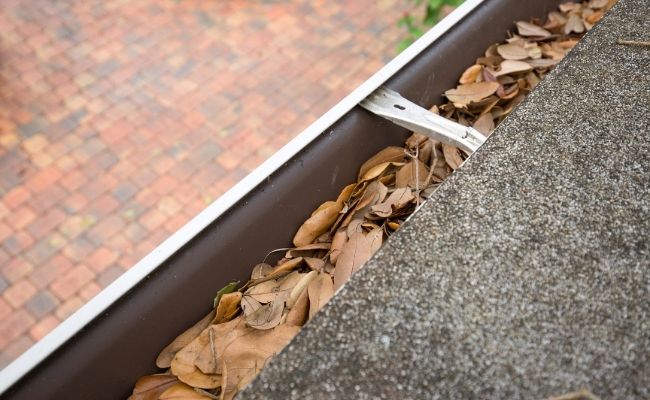 Gutter Repair Fort Myers Can Count On
When you call gutters Ft Myers experts to evaluate your gutter system, and we discover that you require repairs, we begin the process of diagnosing the exact problem. This way, we help you to know the nature of the problem, the cause, and the cost of repair. If you need gutter installation Ft Myers, we also guide you accordingly after the evaluation. Some of the complications that we commonly discover are:
Sagging Gutters: If your technician used big spike nails to install gutters on your property, you risk dealing with sagging gutters. Since the metals often expand and contract depending on the prevailing weather, they can pull the spikes out. Our trained professionals use the right screw and hangers to fix new gutters on the fascia board. However, in some cases, we might need to replace the gutters.
Storm Damage: During the raining season, too much water can weigh down your gutters and cause this problem. Storms can also cause branches and trees to destroy it. However, during the winter, ice can snap weak quality screws, too. This requires some repairs. Our team helps you to correct this as quickly as possible to mitigate further destruction.
Standing Water: If your gutters do not allow water to flow, the water could cause many problems. In this case, we resort to repairing your system. Our experts re-pitch and then reinforce them with the ideal hangers and screws.
Wear and Tear: Wear and tear is a normal experience. Oxidation often makes most types of gutters to develop pinholes after about 20 years. If we diagnose this to be the problem, we recommend installing a new system. Our seamless gutters are long-lasting, and you can use them for a much longer duration.
Seamless Gutters Fort Myers FL
Our skilled and trained team installs for you seamless gutters, which last many years. With this type of gutter, you face limited risks of suffering due to the impact of expansion and contraction at the joints. As the name suggests, they have no seams or seamed joints.
Every professional gutter installation includes a robust, generous warranty on your contract to protect you in case the gutter system fails. Without a contractor having your back, you will have to go through the reinstallation effort all over again. If the damage is too severe, you will have to incur additional costs for new gutters and possible repair for your roof or fascia. While professional workmanship is highly unlikely to malfunction, the warranty will ensure that you spend neither a coin nor any effort in case of any incident.
The fact that gutters are installed at the highest point in your house makes a DIY job incredibly dangerous. If you are not comfortable with heights then attempt to do the installation, you may have an accident that could seriously debilitate you. The last thing you want is to fall more than 5 meters down, or even higher if your house is multiple-story, while you can call a professional to handle it for you.
This advantage is tightly connected with safety. Without insurance, you are liable for any third-party property damage that may occur while installing your gutters by yourself, and will definitely cater to any damage to your home. If you had an accident, you might have to cover your medical fees. Professional gutter installation companies like ours are backed by reliable insurance covers to protect both our staff and clients from the hefty costs associated with accidents and damage. All forms of construction are inherently risky, and you should not have to reach into your pocket to cover any costs associated with it.
Copper and aluminum gutters
These two types of gutters can serve you for more than 15 years. Copper is, however, more expensive than aluminum. As such, unless you must get the classic appearance that copper gutters provide, we are ready to install for you the aluminum alternative. There is no difference in terms of functionality. We are here to serve you. If you have any questions or need our honest evaluation, feel free to get in touch with us now.