installation & gutter cleaning tampa
At Gutters and More Gutters, we are committed to serving Tampa and other nearby cities with our high-quality seamless gutters in Tampa, aluminum gutters, and many others. We have designed a wide variety of products for the residential and commercial sectors. For example, we create seamless gutters in Tampa FL that suit the needs of every customer. From the list of our gutters Tampa services, you can see that we understand the needs of our targeted audience and have created packages that address each of the unique requirements. The top gutters in Tampa services that we offer here include:
Gutter Installation
Rain Chains
Rain Barrels
Gutter Guards
Gutter Repairs in Tampa
Gutter Downspouts
Gutter Replacement
Gutter Cleaning
Our Commitment To Service
In the entire state of Florida, Gutters and More Gutters has built a reputation as an honest and customer-centered provider of all gutters Tampa FL services. One thing that makes us stand out is our commitment to walk our prospects through each of the essential steps to help them to make informed decisions. As a rule, none of our experts has permission to recommend any service to you without following the approved project evaluation procedures, which includes onsite visit.
At Gutters and More Gutters, we invest our resources in equipping our technicians with the requisite skills to install, repair, inspect, and maintain all types of commercial and residential rain gutters throughout Tampa and the neighboring areas. With our active involvement in the gutters contracting industry, owners of homes and commercial properties have a good reason to stay calm when they need repair, maintenance, and gutter installation Tampa FL. Since we are one of the most successful and well-resourced gutter contractors in Tampa, we have no problem giving you a 100% satisfaction guarantee.
We are not only committed to helping make the most appropriate home improvement decision at any time but also take full responsibility for the advice and our actions.
gutter installation tampa values most
The truth is that we provide services which meet the needs of our targeted audience as we have seen above. Our trained technicians can make for your custom products and offer the best gutter repairs Tampa. However, other than these great qualities, our clients in the Tampa area get the following from us too:
Rockstar Customer Service – We give you useful answers to your questions before, during, and after the service.
Insured – We meet the requirements to operate in Tampa. If an emergency occurs, our insurance covers you.
Free Estimate – We offer you a detailed and useful inspection report that justified the quote.
Trained Experts – Our Tampa gutters technicians have several years of experience. They have also undergone extensive training.
Competitive Prices – Our business is to help you make the best home improvement decision. We believe that when you are fully satisfied, you become our loyal supporter, which is all we want.
Contact Gutters and More Gutters for any of our gutters services. We are based in the city but serve entire South California. We are happy to help you start by planning, and so we can give you a free estimate.
Seamless Gutters Tampa is Proud of
Gutters and More Gutters also has a team that specializes in seamless gutters Tampa. We do installation, repair, and cleaning. This type of gutter is a great option for people who want to enjoy the product without the leaks. Unlike gutters with seams, these cannot let you down after 10-15 years due to the effect of constant expansion and contraction.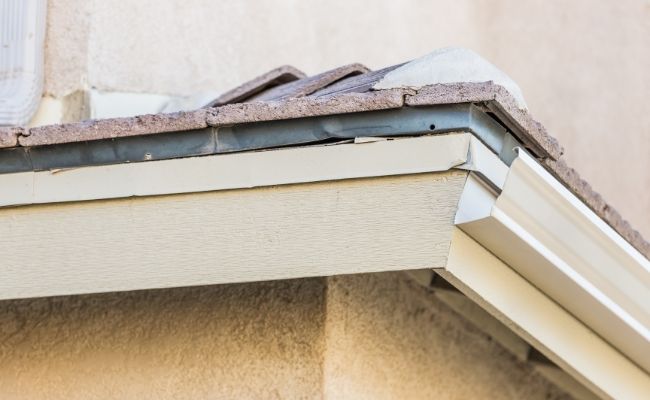 Aluminum Gutters Tampa Loves
At Gutters and More Gutters, we put a lot of premium on what our customers say. We are a listening company, and that is the reason we are currently offering aluminum gutter installation in Tampa. Many of our customers have been demanding for a cost-effective option for their respective homes and businesses, and aluminum gutters offer exactly that. Once we install it for you, you can start enjoying the service without being worried about rust and leakages. Better still, you can paint it, as you like whenever you want to achieve your unique aim. Our customers are pleased to note the unique way we offer this service. For our gutters Tampa FL customers, we offer them a full suite of high-quality services and warranties for every task.
Rain & Seamless Gutters Tampa FL
We are happy to create rain Tampa gutters because they can withstand the impact of extreme weather. Other than gutter installation Tampa, we can repair and replace your old ones for you. Moreover, we offer rain gutter inspection, which can help you to get an accurate estimate without paying anything for the valuable service.
Every professional gutter installation includes a robust, generous warranty on your contract to protect you in case the gutter system fails. Without a contractor having your back, you will have to go through the reinstallation effort all over again. If the damage is too severe, you will have to incur additional costs for new gutters and possible repair for your roof or fascia. While professional workmanship is highly unlikely to malfunction, the warranty will ensure that you spend neither a coin nor any effort in case of any incident.
The fact that gutters are installed at the highest point in your house makes a DIY job incredibly dangerous. If you are not comfortable with heights then attempt to do the installation, you may have an accident that could seriously debilitate you. The last thing you want is to fall more than 5 meters down, or even higher if your house is multiple-story, while you can call a professional to handle it for you.
This advantage is tightly connected with safety. Without insurance, you are liable for any third-party property damage that may occur while installing your gutters by yourself, and will definitely cater to any damage to your home. If you had an accident, you might have to cover your medical fees. Professional gutter installation companies like ours are backed by reliable insurance covers to protect both our staff and clients from the hefty costs associated with accidents and damage. All forms of construction are inherently risky, and you should not have to reach into your pocket to cover any costs associated with it.
Copper Gutters Tampa FL is Proud of
At Gutters and More Gutters, we repair and install all forms and sizes of copper gutters. While these Tampa gutters or South Florida gutters are the most expensive option, the elegant look that they give businesses and homes is something worth the investment. As the leading copper South Florida gutters specialist based in Tampa, we can help you to give your home a completely new look by installing these solutions for you. If you need to maintain the current ones, we are still here for you. Our advice is that you seek a certified company when you are looking for a copper gutter service. As leaders in Tampa, we vouch for our thoroughly trained experts who use high-quality materials and work closely with you to improve the value of your property.
Our galvanized steel gutter specialists can help you with installation, repair, and maintenance of this hard-to-dent option. Our gutter cleaning Tampa service can also benefit you once it is installed.
Other than being durable, you may prefer the South Florida gutters due to their great look. At the same time, they are easy to clean and maintain. Since we are based here, when you need gutter repairs Tampa, we physically come to the location to inspect the property and the damaged gutters. Moreover, we carefully evaluate the wood rot and the cracks in the foundation to help us decide whether it is the right time to replace them or not.
If you require a Tampa gutters expert to inspect your galvanized steel gutters at home or workplace, you should not contact those other companies that take ages to respond. Gutters and More Gutters specializes in these products and services. The other important reason you should call is that we respect you, are reliable, and offer a professional service.